Where does the phoenix come from? What special gifts do these fiery birds possess? Why were ancient humans so obsessed with wanting to eat them? Find out, on Whoa, Nessie!, one of the Not Saf For Work podcasts launching on July 1st!
What do you get when you combine a nerd and an animal enthusiast? You get a podcast that takes you on a wild ride from the Scottish Highlands to a galaxy far, far away; into Greek epics and back to modern "reality".
(Well, you either get that, or a horrifying chimera, Whoa, Nessie!)
Following hosts Amelia and Jade as they explore the mysterious world of mythological beasts, cryptids, and fantastical creatures on a quest to discover the truth. Cryptozoology may be a pseudoscience, but that won't keep them from becoming the best darn pseudoscientists they can be!
Do you believe?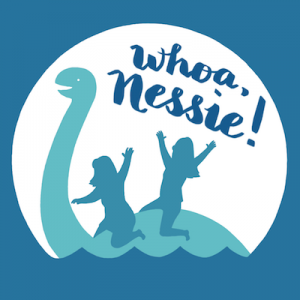 Your Hosts
Amelia is a big ol' nerd, and doesn't care much for reality. As such, she loves everything sci-fi, fantasy, and mythic, including the creatures that live in those worlds. An illustrator and sometimes-writer, she has a sporadically-updated fantasy webcomic called Quest-ish, and is working on a couple of sci-fi novels (also sporadically).
If you can't get enough of her chipmunk voice, she's also a co-host of the Star Wars discussion podcast Far Far Away Radio. You can find her on her twitter @amalimali, or visit her portfolio website.
Jade is what someone might call an "animal enthusiast". She's studied animal behavior and worked with tigers, leopards, lions, cougars, and lemurs—just to name a few. As a rescue advocate, Jade is often hanging out at the animal shelter and has stuffed her home with 3 rescues and 2 fosters.
Have you seen the adorable dog video? She has. What's that obscure cat breed? She knows. Why do tigers do that weird thing? She will tell you, and then share even more facts you didn't know you needed.
You can find her big cat and rescue pet photos on her Instagram @jadeoliviak, or tweet at her @jadeoliviakay so she can learn how to use Twitter.
Where can Whoa, Nessie! be found?!
If you want to get Whoa, Nessie! on launch day, look for the NSFW network launch on July 1st, where the first episode will be found on the main network feed. A Nessie-only feed will be out not long after! You can also follow these budding pseudoscientists on Twitter @WhoaNessie.
If you want to stay up to date with NSFW Podcast news leading up to the launch, follow us on Twitter or sign up to our Mailing List. You can subscribe to the NSFW main feed on iTunes, Podbean and Feedburner. New episodes for The Lasso and other shows will be live on the main feed on July 1st!