Hey all!
I've been a little (a lot) absent from my site (and other places) for the past month and a half for a couple specific reasons: travel, health, and organizing podcast things. I went to Canada, USA, Wellington, Australia, and then came home to be diagnosed with Fibromyalgia. It's been an intense few weeks! But more on that stuff later.
For now, here are the recordings of the talks and panels I did while travelling and some little write-ups about the events I was lucky enough to experience. Travelling for a month and being accepted to speak at multiple events was a huge privilege, and though I'm paying for it now with my health, I wouldn't have had April any other way.
Play By Play
First up is my talk from the lovely Play By Play festival in Wellington, in which I spoke about the different types of choices players are given in games and what they mean for the themes and narrative structures of the games. Basically, it shows a little of how I personally think about narrative, player agency and choice. It also shows that I'm always ready to fight people about the endings of choice-based games.
Side note: never try to make a powerpoint on a tablet, just don't do it.
Play By Play itself is one of the highlights of my year since it first began last year. It's cozy, friendly, and organized by some impressive folks. I'm heartbroken I missed the exhibition this year especially since there was a game there I really wanted to check out.
The conference was filled with all kinds of niche and inspiring talks from many different parts of game development. Because there's only one talk stream, you end up listening to people speak about things you never would've gone out of your way for otherwise, which I think is a great thing. I would highly suggest going through the whole playlist, there's a lot to learn in there no matter your expertise.
GX Australia
I was on five panels at GX Australia, a small and super-inclusive convention in Sydney, in which I spoke about robots, sexuality, mental health, and writing. To think I almost didn't go! I had such a blast in Sydney and at GX, it had the friendliest vibe of any convention I have ever been to and gave me the chance to speak with people I adore and idolize.
Besides that, I could see how positively the convention and the talks affected the people who went. From seeing tweets about feeling included, discussions with other fans, to the emotional closing ceremony, it's pretty clear that spaces like GX are sorely needed for many of us. What a beautiful sight, to see people able to be open and happy without fear.
And now, of course, I kind of want to start a podcast jumping off that springboard. Again, more on that another time.
Why Do Queers Love Robots So Dang Much?!
In what is possibly the most Saf thing I could have possibly done, I wound up on a panel about why queer folk seem to love robots, AI, and synthetics in their fiction so much. It wasn't something I'd ever thought too much about before this panel, but turns out I have a lot of thoughts about this subject.
Representations Of Mental Health In Games
Mental health representation and awareness is obviously something I'm a huge advocate for, and this panel discussed a range of mental health issues that are sorely under-represented or mis-represented in games. I went on a bit of a rant about a huge issue I have with Life is Strange, so warning about spoilers there.
The A Is Not For Ally
Probably my favourite panel of the weekend—which is saying a lot, because I loved every panel I was on—because Snow is an amazing moderator and all the panelists are hilarious and sincere people. For being the least sexy panel at GX, we sure managed to find a lot of innuendo in our material. Obviously, asexuality is a topic close to my heart, being ace and all, and this panel seemed to resonate with a lot of people. It felt important.
Queerly Represent Me And The Underrepresented
Queerly Represent Me is something I've written about before, and is a resource I'm a huge fan of. Being asked to be on this panel by Alayna Cole was a huge honour, and it was interesting to learn more about the statistics side of things and hear the POVs of my other panelists. I know I look like I was on my phone a lot instead of participating, but I was just in the panel's hashtag talking to the audience, I swear!
Modern Visual Novels
A panel in which we talked about how visual novels have become a place for queer creators and gamers, and in which I realised I was totally out of my depth because I mostly write visual novels, rather than playing them. I learned a lot about visual novels and had a blast talking with Lauren, Snow, and Tina, who are all totally amazing people.
Star Wars Celebration Orlando
I also, uh, went to Celebration in Orlando, which now feels like a million years ago. I was on three panels and spoke at the Carrie Fisher Memorial Gala. As far as I know, only one panel was recorded. The convention itself wasn't very well-organized, and I was a little too exhausted to fully engage socially a lot of the time so I feel like I missed more than I wanted. The panels I saw were all really good though, and it was a lovely time finally catching up with my Star Wars and podcasting pals.
Bless Steele for recording How To Podcast Like A Jedi Master, a panel on the podcasting stage including me and other well-known Star Wars podcasters talking about how to get into podcasting. Two years ago I never would've dreamed I'd be invited onto a panel with these folks to talk about podcasting, yet here we are!
UPDATE: We have a recording of LGBTQ+ In A Galaxy Far, Far Away!
Meg and I arrived late because our Uber dropped us off on the WRONG SIDE OF THE GIANT BUILDING but gosh, this was such a fun panel with a full room and heaps of audience interaction. I get a little salty about some things, but in all honesty, this is up there as one of my favourite panels to have been included on. I just need to learn to not say "don't ask me about this" because people will absolutely ask me about it.
Stay tuned for more info about the launch of my upcoming podcast network, the new Tourist chapter, a few photography galleries, and even a blog post or two! Getting back into the swing of things now that my flare-up has flared down.
Also, my site hit its third birthday in April! I can't believe it's been three years already, I've come so far.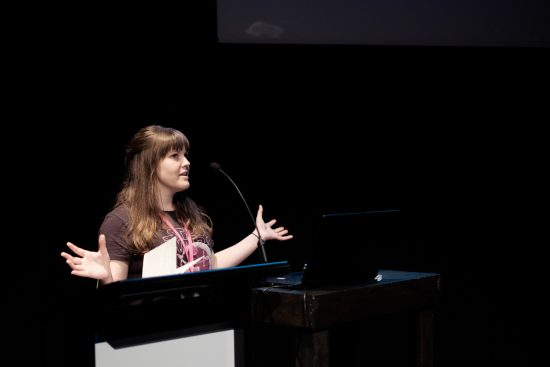 Header image taken by Tomas Daniel.
---
Like what I have to say? Support me on Patreon!