I was born in the year Friends first aired, 1994. I literally grew up with the show, and it was a massive influence on my life. I have become the Friends friend of my group — I'll literally be able to link anything that happens to me to an episode. Growing up, I wanted to be just like Monica. Now I just want to be queen host; I'm happiest when people are enjoying my food.
This ain't so much a blog post as a "look at things I've made because where else am I going to show them?" kind of thing. I need something positive on here after my last post and really, who doesn't love looking at food?
THE BIRTHDAY CAKE
I had a Lord of the Rings themed party for my birthday this year. Yes, we had to dress up. Yes, I was dressed as a hobbit (my short stature is good for something!)
My first real adventure into cake decoration with my best friend Chlo. It was a lot of precarious cake-house building and quite a lot of hours of piping the grass and flowers!
Gosh, that was one sweet cake.
THE NEPHEW'S CAKE
After making a relatively cute cake for my own birthday my sister drafted me into helping her with my nephew's cake. The idea: a dragon and a dinosaur fighting on a volcano. Children.
Stick Toothless and a t-rex on a cake and most kids will be pretty happy, honestly.
THE TEX-MEX
One thing that people around me would know is that I adore Mexican food, both authentic and Tex-Mex. Another best friend, Alex, and I threw a Mexican themed dinner, titled "Saf and Alex's Complex Tex-Mex and Zest Fest Extravaganza" (disclaimer: Alex named it). Mmm, home-made salsa and guac!
I assure you, there was much tequila that night.
THE GROOT CUPCAKES
Chloe wanted baby groot cupcakes for her birthday, and that's exactly what we did! Based off of this tutorial, they were triple chocolate cupcakes with gingerbread Groot babies.
This introduced me to a whole new world of cutting shapes out of gingerbread with a stencil, icing sugar, and a sharp knife. Truly, Chloe is a genius for figuring out that icing sugar around a stencil would give a clear shape!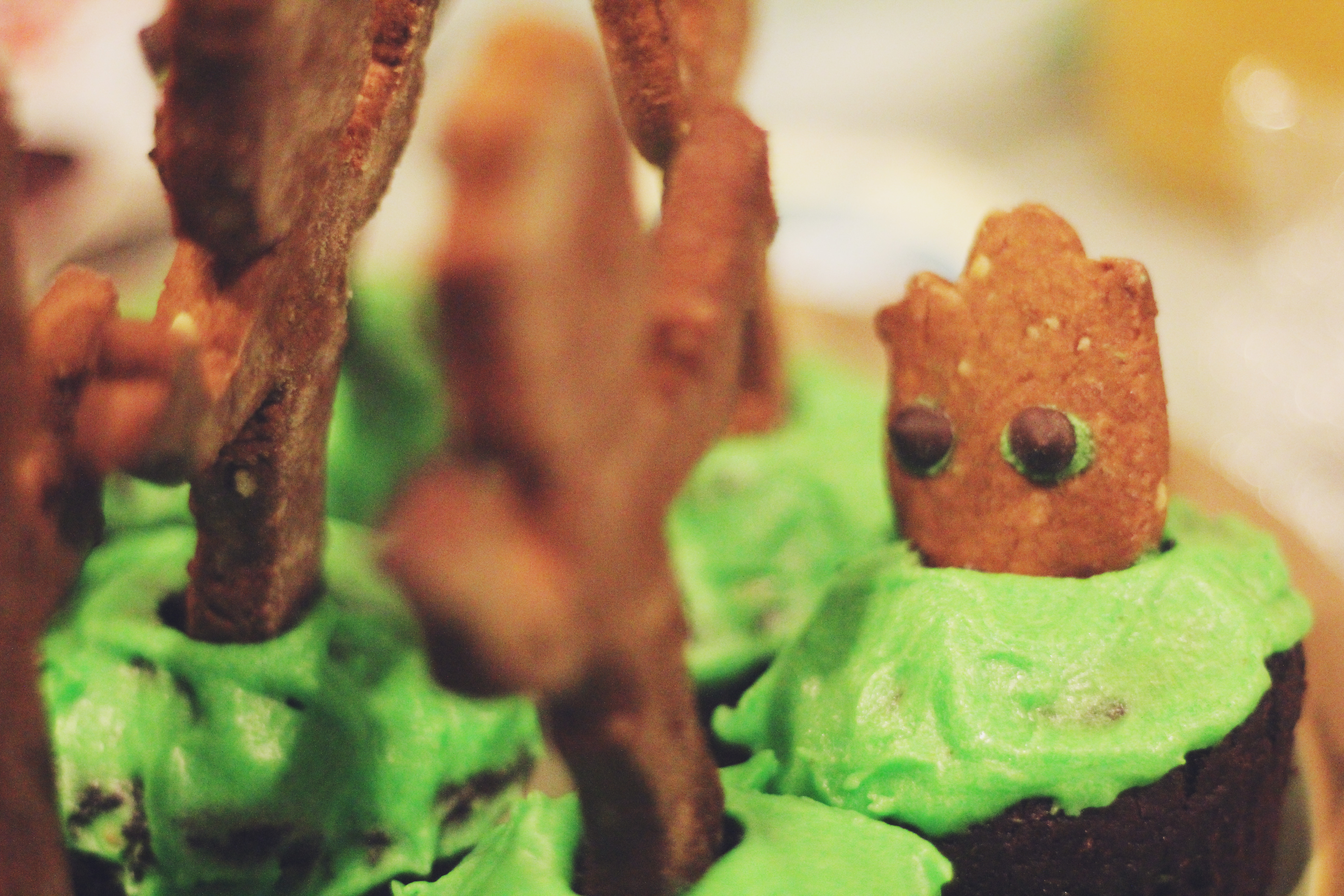 THE MISCELLANEOUS
 I often bake when stressed, and I'm often stressed. I also bake when I'm happy, and I'm often happy too!
Okay, this sucker ain't the prettiest Victoria sponge, but I spent a long time whipping that cream (enough time to watch How To Train Your Dragon twice, to be precise)! And it tasted pretty good. I made this with my sister in Thames — she's someone I adore baking with.
I've recently fallen in love with making pretty looking, experimental foods. This was an oatmeal pancake stack (a recipe I've ad-libbed into my own thing) with maple-peanut-almond sauce, cocoa and cinnamon, with apple on the side. Ain't it cute?
Related: This was an attempt at a cinnamon roll loaf. Very pretty! All I wanted was cinnamon buns, but I knew we didn't have any yeast. I also didn't have sour cream or yogurt, which all the loaf recipes said I needed, but when am I one to read a whole recipe before I start baking?
I mixed up some olivani and banana together, and it mostly worked (mostly.) I need to mess around with this recipe a bit more still, but I'll get there! It doesn't help that my oven takes twice as long as it should to bake anything. Why do you do this, oven?
Halfway through making the loaf I found some dry yeast at the back of my baking drawer. Sigh.
THE CHRISTMAS DINNERS
Every year since around 2007 I've been making Christmas dinners for friends and family. The dinners have only grown as I've gotten older and made more friends (and gotten better, I hope!)
Circa 2012, which I think was my first dinner for my friends in Auckland. I was so proud of that strawberry salad.
This was last year! That was one big-ass chicken, let me tell you (and it got utterly devoured.) Have some close-ups:
This post was mostly self-satisfying. I love making food, I love taking photos of food, I love sharing food. I'll probably try and write up some recipes sometime soon just for the hell of it. Look forward to more food!