While media slowly gets more progressive, many of us can't help but notice the erasure of certain things… such as the word "bisexual". The first episode of Queerly There, a podcast launching on the Not Saf For Work podcast network on July 1, tackles this topic.
Queerly There is one part love letter, one part nerdy critical analysis, one part frustrated queer rant. Host Rowan explores queer representation in media through discussions of LGBTQIA+ characters, common tropes, and analyses of stories through rainbow tinted glasses.
Filled with humour, bad puns, and a little bit of love for the media that does it right, Queerly There is a shorter solo show that picks apart the good, the bad, and the very bad. Though the premier episode dives into bi erasure, future episodes will explore further aspects of sexuality, queerness, and pulp culture.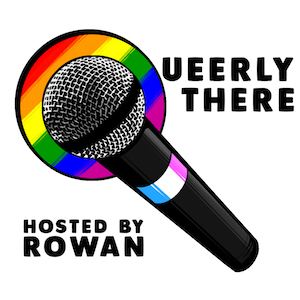 Your Host
Rowan is an intersectional feminist, huge nerd, and big queer. A perpetual student and wannabe pop-culture critic, Rowan has a degree in Philosophy and Classical studies and is in their 3rd year of a Creative Technology degree majoring in Film.
A passionate supporter of all things gay and nerdy, they have been described by friends as an enthusiastic and caring dork who loves tea and puns. In the past, Rowan has volunteered as an interviewer with PrideNZ.com and on the media team with NZ Queer youth organisation Inside Out.
Follow Queerly There on Twitter!
Where can the Queerly There podcast be found?
If you, too, want to get the Queerly There theme song stuck in your head, look for the NSFW network launch on July 1st, where the first episode will be found on the main network feed. A Queerly There-only feed will be out not long after!
If you want to stay up to date with NSFW Podcast news leading up to the launch, follow us on Twitter or sign up to our Mailing List. You can subscribe to the NSFW main feed on iTunes, Podbean and Feedburner. New episodes for The Lasso and other shows will be live on the main feed on July 1st!