Hello Panem! We know you're ready and excited for the 75th Hunger Games, and so it's the Capitol's pleasure to bring you a saucy little cocktail to warm up your vocal chords so you can cheer for your favourite victor all night long.
You saw her last year as she prepared to sacrifice everything in the name of love, and you'll see her again this year as she represents the only female victor from District 12 in the Quarter Quell. It's our favourite victor, Katniss Everdeen, The Girl On Fire!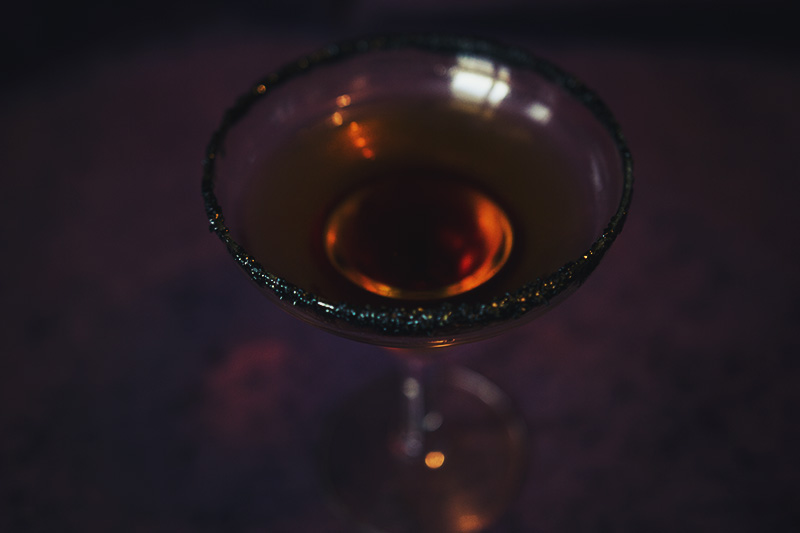 This hot little number is dark like the coal of District 12, sweet like their victors' true love, and has a bit of a kick just like the girl herself. The sweetness of spiced dark rum, livened with Benedictine and creme de cacao, is cut by the flaming arrow of tabasco, and mirrored in a black and gold sugar rim.
Of course, no drink can truly represent Katniss without the finishing touch… of a roaring fire!
Order The Girl On Fire at your nearest bar today!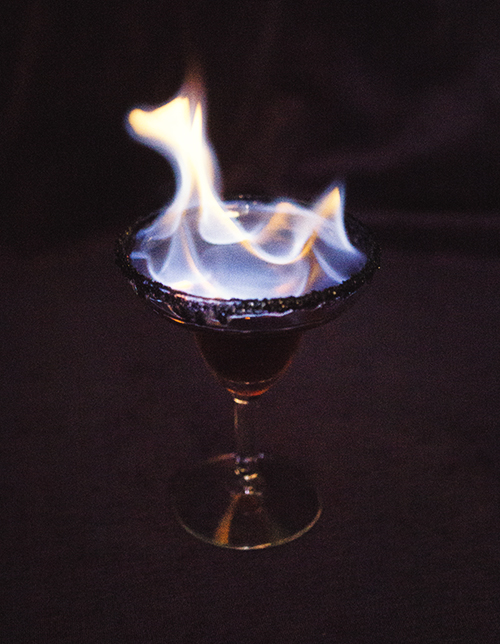 ---
The Girl On Fire
2 shots Kraken Dark Spiced Rum
1/2 shot Bénédictine
1/2 Creme de Cacao
2 dashes of tabasco
Simple syrup
Gold lustre dust
Black sugar
Bacardi 151
Mix enough gold lustre dust with your simple syrup to achieve a strong gold colour (add in small amounts until you're happy with it). Rim your margarita glass in the gold simple syrup, and then rim with black sugar.
In a mixing glass filled with ice, add Kraken Dark Spiced Rum, Bénédictine, Creme de Cacao, and tabasco. Stir for about 60 seconds. Strain into your rimmed margarita glass.
Pour enough Bacardi 151 over the back of a spoon to float on top of the drink and create a layer to burn. You should not need much. Carefully (we recommend a long-armed lighter), ignite the overproof rum and allow the fire to gently caramelise the sugar on the rim of the glass. Extinguish the fire, make sure it's not too hot before you drink it, and then enjoy!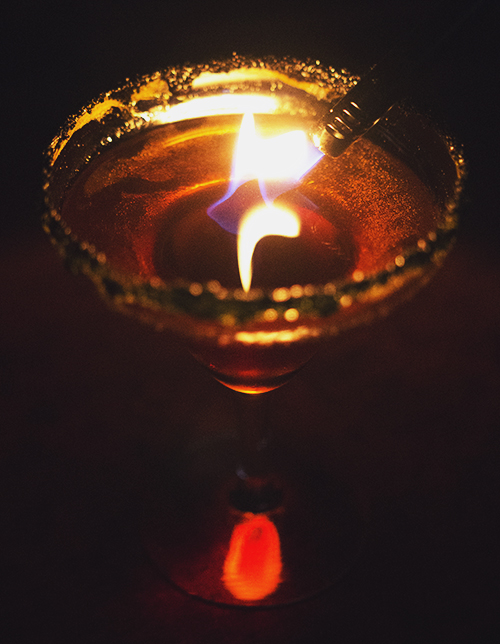 ---
Alex is one of those layabout millennials ruining the economy and stealing all the jobs. He likes drinking, writing, drinking and writing, and getting overexcited about food and music. You can read his poetry, prose, and Twine work at his blog. Watch out for his upcoming collab with Saf as they get hot and sloppy on Sauced & Saucy.
This cocktail was designed by Alex, with photography by Saf.